"A lot of people come from the western world to visit India in search of the truth about God and spirituality. Some people also get robbed in this process. Be careful guys, we need to get it right by doing the right".
Written by
Suresh Kumar
From
Punjab, India
For
Diario Literario Digital
(Digital Literary Journal)
We meet plenty of people in our life time. Some while travelling, in the neighbourhood, in schools, at work, in family functions and everywhere. How many people actually leave an impact on our lives? Not many, is my answer.
There was a very holy man whom I haven't forgotten even after he passed away on March 2, 1985 thirty years ago. He was a fair complexioned, curly haired man, with a grey beard and a strict but smiling face. He wasn't more than 5'8"tall. Most of the time chewing beetle nuts, he was a very fine reader of the mind who had immense spiritual powers to tell the past, the future and the present of someone who was in need. He wasn't a normal fortune teller. He was a spiritual man with mysterious powers. He could talk to the spirits and ghosts. He knew things about the supernatural world. I called him Babaji, like the rest of my family did.
He was the caretaker of the Shrine of Hazrat Shaikh Hasan Shah Gazali (R.A.), which is situated near the Roman Catholic church in Colaba Mumbai. The tomb is 900 years old, one of the oldest dargah in Mumbai. (They call Dargah a tomb where a Holy Muslim Saint is buried). Gazalis were suffi saints who came from Baghdad to spread Islam. Hazrat Shaikh Muhammed Ali Shah Gazali (MUHAMMED) belonged to the same family. Baba Muhammed was married to Bibi Hawabi Gazali, she was so polite, big hearted and a holy women just like he was a holy man. Everyone called her Ammaji. She was mother to four sons, two daughters and even the disciples of Babaji were her children. She loved everyone. No one ever walked away hungry from their house.
There was a special relation with my family as my mother was taken as a daughter by him. We are Hindus and they were Muslims... people didn't believe it and didn't like it either. My mother Kanta tied Rakhi to his youngest son Rayaj (Raju). According to a Hindu tradition, girls tie a wrist band to their brothers, which is called Rakhi, so they can protect them from any sort of trouble. We called him Raju Mama (maternal uncle). He was another very spiritual man who took over from Babaji after his death and, very sadly, he too passed away in April 1989. And since then my life has changed. I feel lonely unless I sit in meditation and feel them besides me. Since my parents were very close devotees, Babaji once called both of them and said: " the saints never keeps anybody's favour, therefore I bless you with a son". So I was born.
On many occasions, Babaji had shown his spiritual powers to me. He could stop the rain over the shrine. (Sounds different, ¿isn't it?). Once a couple came to visit and they told him that they have lost their daughter. They were crying. Babaji closed his eyes and a few seconds later he told them to go to the train station immediately and they would find her there. The couple came back after a couple of hours, with some sweets and garlands and held his feet and cried, they had found her. People came to him for all sort of work and once he would bless someone, his work would be done.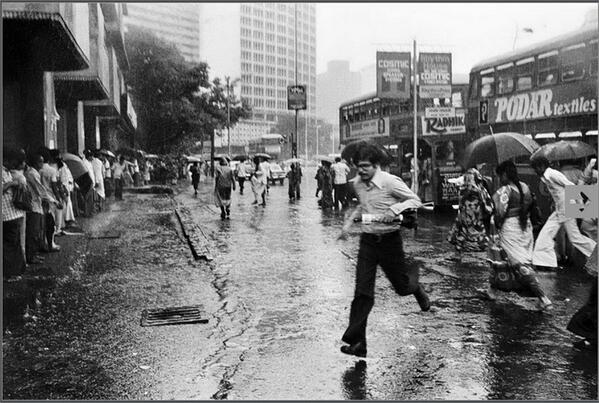 On one occasion he got very angry at somebody who asked him that he wanted to convert into a Muslim. He told everyone sitting there to be a human before you become something else. He further added that we all have a purpose in life, and I always thought about the real purpose in mine.
He taught me a few super powerful things in case I wanted to help the needy and warned me not to use them for the sake of making money or any selfish reason because it was not allowed by the Almighty. But it is my confession that I used them for my own benefits over and over again. It had a bad effect on my life, I started getting sick and all my money drained away. Since then, I never used those powers for personal gains and started to help the needy. Well, my life is fruitful again. People call me and visit me when they have problems and I do the necessary. Lately I have realized the purpose of my life.
Babaji announced the day of his death a month before and his son and my beloved Raju mama announced his death almost a year before. ¡What a power! They always said that the Almighty doesn't want us to keep praying all the time. He want us to help the needy and do the right thing in favour of the mother earth and the human kind. Since I live in Punjab, very far from Mumbai, I visit his shrine whenever I could afford. We are still paid the same respect by the clan of Gazalis the way it was decades earlier. I also believe that we can only visit the Holy Shrine when we are invited by the holy spirits. Mumbai is my Mecca and Madina cause my Muhammed lived there.
Nizamuddin Riyaz Ahmed Gazali son of late (Raju) Riyaz Ahmed Gazali and the Grandson of Late Muhammed Ali Gazali is today the caretaker of the holy Shrine. He holds the same powers which his father and grandfather held years ago. We still have the same ties which were laid by His Holiness Baba Muhammed.
This story is a lesson for the people who want to know and feel the powers of the Holy spirits and who visits India to discover the truth about God and spirituality. We need to understand that a proper master for this purpose is required cause by no means it is a hit and trial method. One needs a pure mind and a clean heart. Intention must be good and simple. Thus find the right master.
My name is Suresh and you may ask me if you need any help, I wouldn't be doing any favours by guiding you to the eternity but will solve the purpose of my own life.